The following is a guest post by Julia Merrill. After numerous years in the medical field, Julia Merrill experienced the challenges that a lot of my patients came across when dealing with their medical care. It is her goal to bridge the gap between those who receive care and those who provide it. She aims to provide tips on finding the right medical care, health insurance, and all things health and wellness through her website BefriendYourDoc.org.
---
It is no secret that men make up only a small portion of the nursing workforce. Unfortunately, stereotypes and stigma around the profession can make men hesitant to enter the industry. But like women, men have a lot to gain by pursuing a career in nursing. Below, we have listed some of the top reasons why you should consider becoming a nurse as well as some tips to help you thrive in the medical field.
Flexible Education Requirements
First, the path to becoming a nurse is fairly flexible. Depending on your budget for schooling, your time availability, and the type of nursing you want to do, you have several different educational options to choose from. If you are looking for the fastest way to become a nurse, you will want to earn your associates degree in nursing from a community college or hospital training program. Already have a bachelor's degree in another field? You may be able to skip some course requirements in your nursing program.
Completing higher levels of schooling will open the doors to more specialized, higher-paying nursing jobs in research, education, or administration. Most nurses start with a basic associate degree or bachelor's degree in nursing and continue attending school on the side to advance their careers. Online schools make this easy. You can earn your master's degree in nursing leadership, informatics, education, or health administration, from a number of accredited online institutions, while still holding down a hospital job.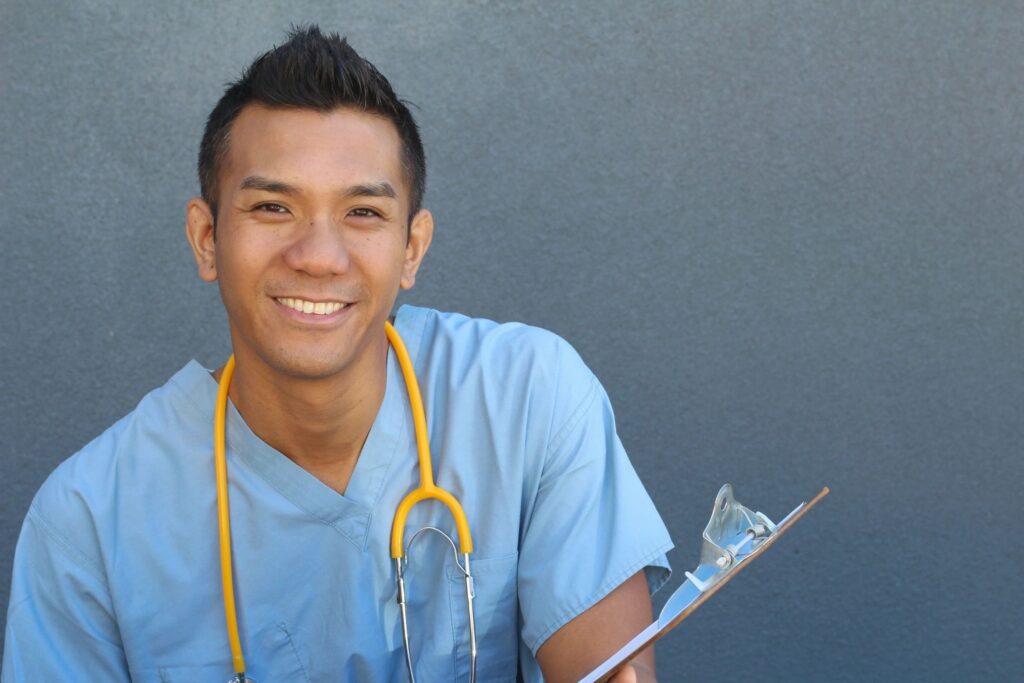 Competitive Pay
Another great reason for men to consider a career in nursing is the opportunity to earn a generous salary. According to Nurseslabs, RNs make an average of about $77,000 a year. While this is already above and beyond the average salary across all jobs in the United States, the top 10% of nurses earn over $111,000 a year! If that is not enough, demand for nurses during the coronavirus pandemic is driving wages even higher.
Opportunities for Advancement
Men who enter nursing are often highly motivated by the availability of career opportunities in the industry. There is a wide variety in the kind of work you can do. But first, you will need experience. In an effort to reflect the demographics of their patients, healthcare facilities are eager to hire male nurses. As a result, men might have an advantage when it comes to finding work right out of college. Once you gain some experience in an entry-level nursing job, you may decide to choose a nursing specialty that fits your personality and career goals.
Rewarding Work
One of the most common reasons why men join the nursing field is because they want to help people. No one can deny that nursing is an incredibly rewarding career. As a nurse, you will have a direct impact on other people's lives. Nurses work much more closely with patients than doctors and play a very important role in assessments, treatments, and diagnoses.
Addressing the Nursing Shortage
By becoming a male nurse, you will also make a positive difference in the healthcare industry as a whole. Getting into nursing is a fantastic way to support your country by easing the strain on the healthcare system. Nursing shortages are predicted to increase in the coming years, and we need more men to enter the profession to offset this imbalance. Becoming a male nurse also sets a great example for male youth by dispelling stereotypes and inspiring other men to pursue the profession.
Nursing is a very rewarding career path for men. Despite historical trends, there is no reason why men should avoid this once-female-dominated profession. If you are passionate about helping people and you are good at your job, you will thrive in the nursing industry.