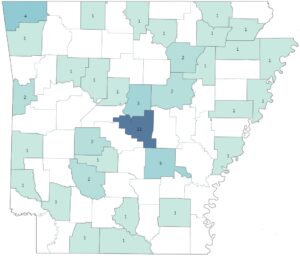 Degree-granting higher education institutions are represented in 33 of Arkansas's 75 counties. Pulaski County, where Little Rock is located, contains the most institutions at eleven. The Arkansas Higher Education Enrollment report is completely free to download and will include data on student demographics, enrollment patterns, and degree completions at both the undergraduate and graduate level. You can download the report on the State of Arkansas here: http://bit.ly/2V7KCpq.
Highlights of the report
Arkansas has 53 degree-granting institutions
Public, 2-year – 22
Public, 4-year – 11
Private, not-for-profit, 2-Year – 4
Private, not-for-profit, 4-Year – 14
Private for-profit, 2-year – 1
Private for-profit, 4-year – 1
These degree-granting institutions enrolled 139,236 undergraduate students and 20,502 graduate students. Arkansas has decreased, since 2012, in the number of undergraduate students but increased in the number of students choosing to enroll in distance education. At the graduate level, enrollments have increased since 2012, as have the number of students enrolling in distance education.