In late November, 2018, the National Center for Education Statistics released the fall 2018 enrollment survey as part of the data collection of the Integrated Postsecondary Education Data System (IPEDS). Annually, all institutions that participate in any federal assistance program authorized by Title IV of the Higher Education Act are mandated to submit the required data through IPEDS surveys. Information on distance education was included for the first time during the annual data collection for fall 2012. Institutions were required to report on the number of students enrolled in exclusively distance education courses and students enrolled in some but not all distance education courses.
The top five states for enrolling exclusively distance education (EDE) students were California, Arizona, Texas, Florida and Utah in fall 2018. Combined, these states enrolled 1,169,422 students in EDE, which accounted for 36% of all EDE enrollments.
The numbers on the this map reflect the enrollments in EDE by state, which is based on the state address of the institution. The percentages below that number reflect the percentage of students enrolled in EDE that reside in the same state as the institution: in-state. New Hampshire had the smallest percentage of in-state students with 11 percent, followed by West Virginia (15%), Utah (16%), and Arizona (25%). Nevada (92%), Alaska (91%), Texas (91%), and North Carolina (91%) were the four states with the highest percentage of in-state EDE students.
---
Breakdown of Exclusively Distance Education Enrollments for Top Four States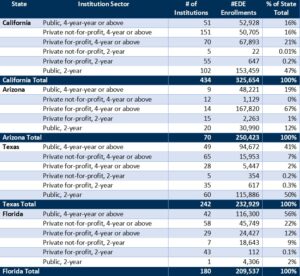 In California, the 102 public, 2-year institutions enrolled 153,459 students in Exclusively Distance Education (EDE) courses, for 47% of California's EDE enrollments. The next highest enrollment sector in California is private for-profit, 4-year institutions with 67,893 (21%) students.
The private for-profit, 4-year institutions, of which there are 14 in Arizona, enrolled 67% of the states EDE students with 167,820. The next closest sector was the public, 4-years (n=9) with 48,221 students. Arizona is the only state in the top four with the majority of EDE enrollments controlled by the for-profit sector.
In Texas, EDE enrollments were almost split evenly between public, 2-year and public, 4-year institutions, 50% and 41% respectively.
Florida is similar to Texas in that the majority of enrollments were controlled by the public sector, with 56% coming from public, 4-year institutions. Florida is one of the states that has allowed community colleges (public, 2-year) to award baccalaureate degrees, which is why only one public 2-year is listed, as all but one are now 4-year.
Of the 1,018,543 students enrolled in EDE across these four states, 26 percent were enrolled in private for-profit institutions, 61 percent in public institutions, and 13 percent were enrolled in private not-for-profit institutions.