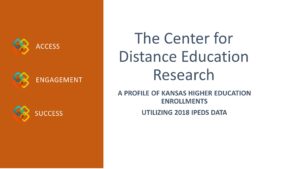 This is the first release of our 'State Higher Education Enrollments' report that will provide insights on degree-granting institutions by State. The report is completely free to download and will include data on student demographics, enrollment patterns, and degree completions at both the undergraduate and graduate level. You can download the first report on the State of Kansas here: http://bit.ly/2V7KCpq). We are just beginning with Kansas and look forward to your feedback before we proceed with other States. Please let us know your thoughts and be sure to tell us which State you would like to see next in the comments below.
Highlights of the report
Kansas has 64 degree-granting institutions
Public, 2-year – 25
Public, 4-year – 8
Private, not-for-profit, 4-Year – 24
Private for-profit, 2-year – 2
Private for-profit, 4-year – 5
These institutions enrolled 184,614 undergraduate students and 28,123 graduate students. Kansas has decreased, since 2012, in the number of undergraduate students but increased in the number of students choosing to enroll in distance education. At the graduate level, enrollments have increased since 2012, as have the number of students enrolling in distance education.